Indian Shikar tents for hire
Our Indian Shikar tents can be hired for private outdoor parties, posh camping or corporate entertaining at your chosen venue, on your own lawn or in the exclusive boutique camping area at WOMAD 2015.
They are great for extra wedding guest accommodation, a fabulous honeymoon suite for the bride and groom or as change from a marquee at any outdoor event. Our luxurious tents are also a super solution for teen 'end of exam' celebrations or even relaxed dinner parties outside with friends.
Exciting news from The Luxury Tent Company
The Luxury Tent Company is now offering a new range of impressive 5 metre canvas Bell Tents for hire accommodating up to 4-6 people.
Our passion for organising pop up camping sites started with the beautiful Indian Shikar Tents, this has now given us a fantastic opportunity and by popular demand to extend our range of stunning tents.
Whether you are creating the perfect accommodation for your guests at your wedding, designing the most romantic bridal wedding night suite, or just want to have a party under canvas, there is no better way to celebrate than offering an exclusive and unique experience which will make your occasion unforgettable for you and your guests.
The Luxury Tent Company provide exquisite tents in a range of furnishing options to suit your event or party, the Bell tent provides an affordable yet stylish option.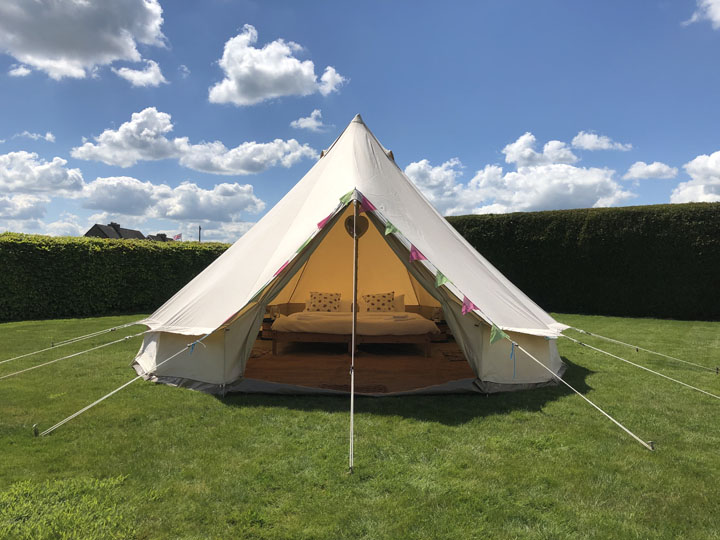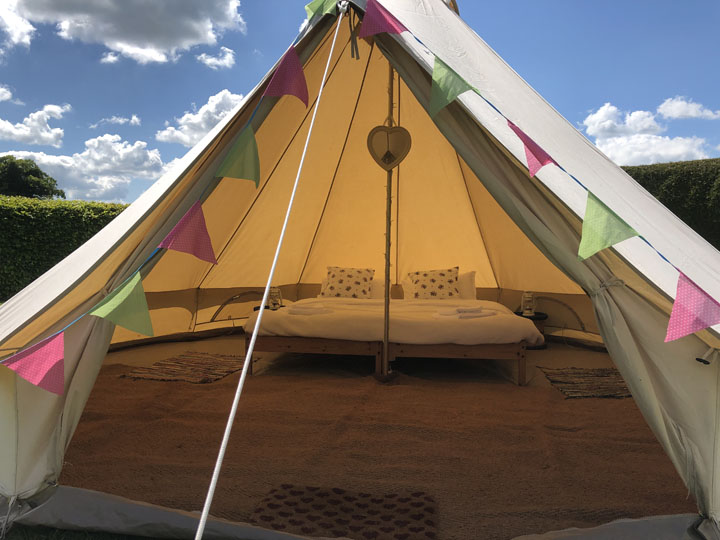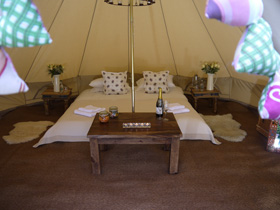 Whether it's a single unfurnished bell tent or a luxurious furnished tent, one, ten or twenty tents we can accommodate for any occasion in most locations.
Please call on 01666 575 470 or email enquiries@theluxurytentcompany.co.uk for more details regarding our new Bell tents.
Introducing our new 30ft handmade round Indian style boutique tent
A stunning, impressive waterproof exterior with curvature edges.
A beautiful blue interior lining with gold mirrored stars.
This luxurious handmade tent is versatile for any outdoor party.
Any luxury tent coordinating furniture or lights can be used to dress this beautiful tent or create a more tradition seated party holding 60 guests plus.
Complete the look and impress your guests with luxurious boutique camping tents with a double bed and themed furniture, this will create the perfect atmosphere for a unique party.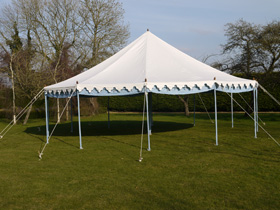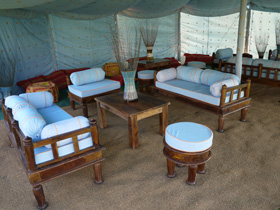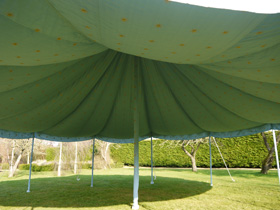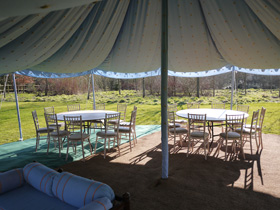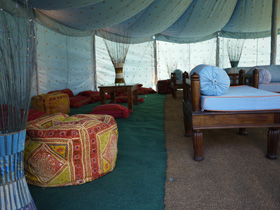 For prices and more information call on 01666 575 470 or email enquiries@theluxurytentcompany.co.uk.
The Luxury Tent Company - call us on 01666 575 470 or email enquiries@theluxurytentcompany.co.uk for more Indian tent hire and Boutique Camping @ WOMAD 2015 Charlton Park information.